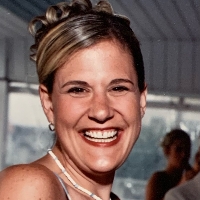 Nicole Lynn Maurer-Karmade
Nicole Lynn Maurer-Karmade
Nicole Lynn Maurer-Karmade
Nicole's outgoing personality lit up a room when she walked in. Her smile, laugh and sense of humor were contagious. She was a graduate of Riverside High School, where she participated in basketball and softball. Nicole then attended Richard Stockton University where she earned a BA in Psychology with a Certificate in Education, and Holy Family University where she received her Certificate in Special Education. She had a love for children and worked as an elementary school teacher for many years. Her special place was down the shore on LBI where she grew up spending summers with family. Nicole was the cool aunt doing all sorts of arts and crafts and activities with all the kids. She and her son, David, were best friends. They loved driving to the shore listening to music, taking walks to the park or off to the river, or just chilling at her childhood home, hanging out with family. Nicole was always so welcoming with Little David's friends, having them over to the house, cooking for them and making them feel right at home. Nicole enjoyed making jewelry, reading, and cooking.
She is survived by her son, David Karmade Jr.; her parents, Carlman "Bud" and Lynn Maurer; her sister, Michelle Maurer-Kaelin; nephew, Bryce and niece, Bailey; and many aunts, uncles, cousins, and friends. Nicole was predeceased by her brother Buddy Maurer.
Come celebrate Nicole's Life on Friday, February 11th 5-8 p.m. and Saturday, February 12th 9-10 a.m. at Sweeney Funeral Home, Riverside. Mass of Christian Burial will be celebrated 11 a.m. at Resurrection Parish. (St. Casimir site, Riverside) Interment St. Peters Cemetery.