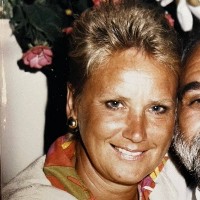 Patricia Rua
Patricia Rua
It didn't have to be Sunday for Patricia to make her famous homemade spaghetti and meatballs. Her menu was a symphony of flavors from sweet pastries to savory meals. She knew in her pot that she was creating an unspoken promise – the promise of shared stories, hearty laughter, and moments that would linger in the hearts of her family for a lifetime.
Patricia took pride in her home. It was kept immaculate, and everything had a special place. Her TV was usually playing QVC or the Food Network. Her radio playing Johnny Mathis and Patsy Cline. She also enjoyed reading fiction novels. In the summer Patricia and her family would travel down to her favorite beach, Ocean City. She liked to relax in the sun and walk the boardwalk. She enjoyed Atlantic City for the poker machines and slots. She also enjoyed fishing with her family
She met the love of her life Sam, when she was still walking the halls of high school. They quickly became sweethearts. They cherished 56 years of marriage together. For over 40 years, they brought life into Paramount Drug Store, a cherished establishment that became a cornerstone of the community. He brought his expertise as a pharmacist, while she, with her energy and dedication as a bookkeeper, ensured that the store thrived.
Patricia is survived by her children: Sam (the late Heather), Barbara, and Marci (the late Joe); 13 grandchildren; 17 great-grandchildren; her siblings: Barbara, Bob, Ray, and Leslie, and many nieces, nephews, and cousins. She is predeceased by her daughter Debbi.
Come celebrate 81 years on Tuesday August 15th, from 8am-10am at Sweeney Funeral Home, Riverside. Mass of Christian burial will be celebrated 10:30am, St Joseph's Church, Beverly. Interment St. Peters Cemetery, Riverside.  In lieu of flowers donations can be made to pulmonaryfibrosis.org