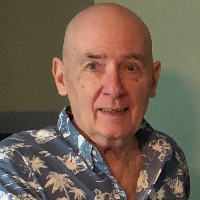 Peter F. Sudol
Peter F. Sudol
Peter F. Sudol of Staunton, VA, formerly of Delran, NJ, passed away on September 7, 2022. He was 83. Born on November 26, 1938, in Trenton, NJ, he was the son of the late Peter and Ann (Drialo) Sudol.
Peter graduated from Hightstown High School in 1956. Peter loved to experience the world through food, wine, and travel. His favorite destinations were France and the island of St Barth. He had a passion for photography, golf, bicycling, and British sports cars.
Peter is survived by his greatest passion his spouse of 46 years, Theresa, his beloved children Mark (Karleen), Matthew (Annemarie), Martin, Karen (Adam), Kevin, Ian (Lisa), and Christopher (Nicole), 13 grandchildren, and 6 great grandchildren.
Family and friends are invited to celebrate Peter's life on Friday, September 16, 2022, from 9-10:00 AM at Sweeney Funeral Home (337 Bridgeboro Street Riverside, NJ 08075) followed by a mass at 10:30 AM at Holy Name Church (260 Conrow Road Delran, NJ 08075).
Interment at St. Peter's Cemetery, Bridgeboro Street, Riverside NJ 08075.
In lieu of flowers, the family requests memorial contributions be made to the Dementia Society of America at www.dementiasociety.org.