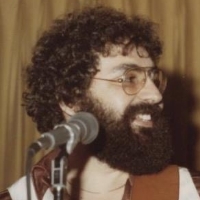 Ronald Sherr
Ronald Sherr
Ronald Sherr AKA DJ Rock N' Ron (July 26th 1942 – February 12, 2023)
Ron never stopped…minutes before he passed, he was still working on his laptop. With calm composure, he took charge of any emergency, in any circumstance. He was a good Samaritan.
Ron was born in Allentown, PA to Amelia (Snyder) and Paul Sherr. Ron was raised on a chicken and egg farm in Quakertown, PA by his foster parents, Nettie and Sol Soskin. He learned to care for chickens, but knew it wasn't his calling.
As a young boy he wanted to play an instrument, so when the music teacher at school said there was a cello available, 7-year-old Ron was psyched. That made it easy to learn other stringed instruments… upright bass, then the electric guitar. By age 15, Ron and his band "Ronnie and the Defenders" made their professional debut. But his love of the arts continued when his uncle gave him a Rolleiflex camera for his birthday and he taught himself photography.
Ron was awarded a full scholarship to Drexel University for Engineering, but quickly realized that wasn't for him. After one year he transferred to Temple University in 1961 to pursue his true passion of music, advertising, and communications. His band became the back-up musicians traveling with all the greats of Motown – The Temptations, the Four Tops, The Supremes, and The Ronettes. Ron could play any instrument, but he could only sing two songs: Johnny B. Goode and House of the Rising Sun.
He spent three years as a production assistant for the Mike Douglas Show – a national variety show produced in Philly where he met favorite comedian Totie Fields and he rubbed elbows with George Carlin and jazzy Tom Jones… but his favorite was Glen Campbell – who invited Ron to bring his guitar and jam with him at the Warwick Hotel.
He created another band named "Whitebridge" while working for his ADV advertising firm. His nickname became "DJ Rock N' Ron". Since he only slept four hours a night, having many jobs fit him perfectly.
On Easter Sunday, during COVID restrictions, while the whole world was stuck inside, Ron wanted to keep people smiling. He invited families, friends, and Jefferson Healthcare workers to stand on their porch, he took a family portrait using a long lens while he sits in his van at the curb- all for free as a "Thank You."
Ron's love of music and photography brought him his soulmate, Laura. Last minute, filling in for another act at a country western club, Ron impressed Laura with his musical talent. That started a love affair for life. April Fool's Day 42 years ago, Laura and Ron tied the knot.
Ron is survived by his wife Laura Sherr, his daughters Emily (Mike) Rubin, Sara (Andy Selke) Sherr, Paige (Bill) Barnett and his first wife, Frani Schein. He is lucky enough to be blessed with twin grandsons Nate and Kyle Rubin. He is also survived by siblings David (Bonnie) Sherr, Anne Mueller, Patricia McCloskey and her twin Pam Svites, Tim (Shirley) Snyder, Gordon (Cheryl) Snyder and nephew Adam (Sarah) Sherr and niece Abigail (Erik) van Roode and many other nephews and nieces and their children.
Ron's most important goal was to make people happy… whether it's providing a live concert or a Hollywood photoshoot…. Overcoming medical issues himself, Ron looked at every day as a gift.
Come celebrate 80 musical years, Friday. February 17th at Sweeney Funeral Home 478 Cooper Street, Beverly. Visitation will be held from noon to 2pm with a 2pm service.
In lieu of flowers, donations can be made to the American Cancer Society https://donate3.cancer.org or Lymphoma and Leukemia Society https://donate.lls.org