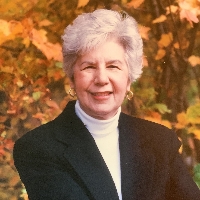 Rose Freund
Rose Freund
Rose lived up to her name because she was a true friend to everyone she ever met. At a young age, she thought she wanted to be a nun, but she found her true calling later in life as a loving caretaker for her late son, Robert [Uncle Bob], who had Down's syndrome, as well as her daughters Carol and Nancy. She found strength, comfort, and joy through her faith which guided her nurturing disposition toward her family. She was actively involved with the church's special needs program, Holy Innocence, where she corresponded with fellow families and members as the group's Sunshine Lady. Saturday mornings she would assist with group activities, planning trips, and dances that would bring smiles to all who participated.
She made friends easily through her caring personality, consideration of others, and of course — baking them her famous pineapple cheesecake. The devotion to her family as a mother and grandmother always came first and foremost.
She is survived by her daughters, Carol Hardin and Nancy Phillips (Robert). As well as her grandchildren, Mitchell Hardin, Robert Phillips, and Jayme Phillips. Rose was predeceased by her husband, James Freund, and her son, Robert Freund [Uncle Bob].
Come celebrate 93 great years (1-10-1930 to 2-14-2023) at Mass which will be celebrated at 10 a.m. Saturday, Feb. 25 at Jesus the Good Shepherd Parish (previously St. Joseph Church), located at 805 Warren St, Beverly, NJ 08010. A private interment will occur afterward at the convenience of the family. Donations can be made to The Arc of Burlington County (arcofburlington.org) in honor of Rose, which assists children and families with developmental disabilities.