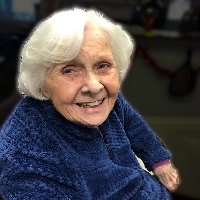 Ruth C. Wolf
Ruth C. Wolf
She grew up in Kensington but made her way to New Jersey in 1964 to raise her family. Ruth started a career as a crossing guard in Willingboro later becoming a matron and a special police officer before becoming a police dispatcher. She retired after 19 years of service. In her later years she responded to an ad saying Grandmothers welcome and spent many years working at Excel Day Care Center. She was into ceramics, had an infectious laugh and maintained her independence until the end.
She met a handsome guy at a Carnival in Kensington. When the late John returned from WWII they wed and shared a 50-year marriage blessed by 3 children: Sharon (Ray) Conway, John Jr. (the late Karen) and Debbie (Jacky) Pignataro; 4 grandchildren and 7 great-grandchildren.
Family will celebrate 93 great years privately.