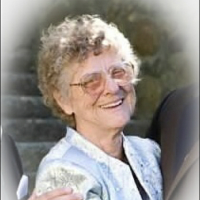 Ruth E. Sharp Allen
Ruth E. Sharp Allen
Ruth E. Sharp Allen was born in Riverside, NJ on April 13, 1931 to Ruth and Robert Brooks. Ruth was employed at O & S Research for many years. She was an avid reader and also enjoyed knitting, crocheting, puzzles and spending time with her family.
Ruth passed away on December 2, 2020. She was 89 years old. She was predeceased by her father, Robert Brooks, mother, Ruth Wolverton, step father, William Wolverton, and son, Ronald Sharp. Her daughter, Barbara Kemble and sister, Eileen Wolverton,, passed away recently. Ruth leaves behind a son, Robert (Linda) Sharp, daughter, Susan (Howard) Gilbert, son, Donald (Fern ) Sharp, son in law, Edward Kemble, brother, Kevin Wolverton, and step children, Florence "Reenie"Heal, Stephen Hunter, Ethel Willis, and Lois Hunter.
She will be dearly missed by her family including her many grandchildren and great grandchildren.
Funeral arrangements are through Sweeney Funeral Home and services will be held at a later date.