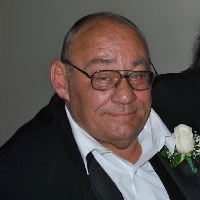 Samuel R. Luciano, Sr.
Samuel R. Luciano, Sr.
He may have looked intimidating, but everyone knew Sam was a Teddy Bear. Easy to tell who he loved: Sam would be hitting them with a barrage of sarcastic comments. They were his hugs. Sometimes a man of few words, but he always had a plethora of smart-ass comments. He enjoyed his family, his motorcycle, and his time with the CB Club. Later years found him enjoying cruises with his wife, along with the occasional blackberry brandy. Family trips were usually to the Poconos (Shawnee and Tannersville.) He loved his recliner and tolerated his phone; he answered it with his usual "yello!!" He cooked a mean meatballs and spaghetti and if his T.V was on he'd be watching some reruns of Chicago Pd, Med, and Fire, reruns of COPS, bar rescue, Bonanza and NCIS. Perhaps his favorite was NASCAR: he made many trips to Dover, Pocono, and Bridgeport with his family. Even made it to Talladega once with his oldest son.
He drove a tractor trailer 27 years for CBL Trucking, eventually retiring from New Century Transportation in 2014. He found his real calling late in life: spoiling his grandkids with doughnuts. Sam was known best for being a family man. A loving husband and doting father. He was an 18 year-old Soldier in the Army when he would meet the attractive 16 year old Janellen (decided they couldn't stand each other) then fell madly in love. They were wed on a lovely Wednesday afternoon while he was home on leave from serving our nation. Their love story was one for the ages. Their 54-year marriage was blessed by children: Sam Jr (Kelly) Luciano, Dan (Sara) Luciano, Shannon (Sean) Thomas, Ashley Luciano, and Matt (Liz) Luciano; and later by grandchildren: Daniel Jr, Hailee, Natasha, Ayden, Jayson, Katey, Caylee, Bella, Karli, Jaynaliese and Kelsi. Sam is predeceased by his brothers: Jimmy Luciano and Michael Luciano. He is survived by his siblings: Nick (Dawn), Donna (Mark), Diane (Keet), Debby (Dan), Johnny (Jaime) and Beth, and many nieces, nephews, and cousins.
Come celebrate 73 great years Saturday, January 14, 2023 from 10 a.m.-noon at Sweeney Funeral Home, 478 Cooper Street, Beverly NJ 08010, where there will be a noon service. In lieu of flowers donations may be made to Samaritan Hospice (samaritannj.org)