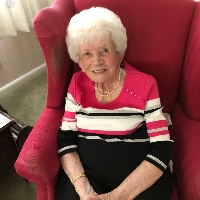 Teresa R. Cellucci
Teresa R. Cellucci
Teresa R. Cellucci (nee Sweeney) passed away peacefully on March 19 at home with her daughter by her side. She was 94 years old.
Teresa was born on Nov. 6, 1927 in Phila. to John and Margaret Sweeney and graduated from West Catholic Girls High School in 1946.
She married her husband Bill on Oct. 28, 1950 and spent the first 6 years of marriage living in Darby, PA, before moving to Delanco where she resided for the past 65 years. During this time she worked at Macmillan Publishing Company for 29 years where she met many women who would become life long friends.
She is survived by her daughter Mary, daughter-in-law Joan, grandchildren Bill and Jackie and siblings Marguerite and Frank (Ann).
Teresa was predeceased by her loving husband of 63 years Bill in 2013, her son Bill in 2007, and siblings John, Mary, and Kathleen.
Mass of Christian burial will be celebrated 10:30 am at Resurrection Parish (St. Casimir site), 502 New Jersey Ave, Riverside NJ, on March 26, 2022. Interment Lakeview Memorial Park, Cinnaminson.