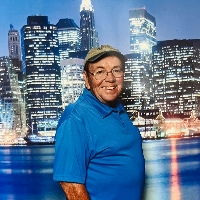 Edward Horn
Edward Horn
It is with heavy hearts and a great sense of loss that we say goodbye to Sir Horn.
Ed attended Riverside High School and graduated in 1963. He was a part of the 1961 State Championship Football team that was inducted into the Riverside Athletic Hall of Fame.
He graduated from High School and joined the  U.S. Coast Guard. After serving  in the Coast Guard for four years, he earned his Associate Degree at Burlington County College.
He worked for Delanco Public Works for 35 years, never taking a sick day. He made many friends that were like family and learned so much from his position in Delanco.
His late wife, Patricia, dubbed him her knight in shining armor and gave him the moniker of Sir Horn. She took care of keeping her and Edward involved socially, mostly because he didn't like big crowds. They enjoyed camping in Maine and Pennsylvania, and when the crowds cleared after the summer they headed to Avalon when it was most quiet.
Edward was not only a hard worker, but also a lifelong learner. His goal was to go back to school to get his degree; to finish what he started. He accomplished his goal by graduating from Rowan University Summa Cum Laude.
Despite all of his accomplishments, Edward never let his success go to his head. He remained humble and kind, always willing to lend a helping hand to anyone in need. He will be dearly missed by his children Brian (Michelle) Horn and Leah (Stephen) Falicki. His grandchildren Brianna Horn, Olivia Falicki, Ian Horn, Connor Falicki, Abigail Horn, Nolan Falicki, Emily Falicki, and Claire Horn.
Come celebrate 77 great years on Monday February 20th from 10am to noon with a noon service at Sweeney Funeral Home 337 Bridgeboro St, Riverside. Please wear Riverside High School, Rowan University, or Eagles apparel for Edward as these were his favorites.
Donations can be made to Riverside Athletics ℅ Monica O'Halloran 112 E. Washington Street, Riverside.