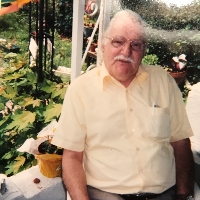 Charles "Charlie" Wolfgang Schretzenmaire
Charles "Charlie" Wolfgang Schretzenmaire
Charles "Charlie" Wolfgang Schretzenmaire was born on January 14, 1931 in Berwyn, Pa. to the late Bartholomew and Anna Schretzenmaire. Dad departed this life on February 11, 2023. He was a man of faith and was unwavering in his religious upbringing. Dad was a hard worker and loved the outdoors and cars.
For a short time, dads parents moved to Philadelphia to support his fathers job. This is where he and mom met and on April 18 1950 he married the love of his life and Queen that he idolized for the rest of his life our mother Ruth (Kent). From this union 4 children were born, Ruth (candy), Charles Jr. (chuck), Ja'Nelle (Jan), and April.
Growing up we were raised in the church and taught through example, what it means to be of good character. Dad held many types of jobs; he worked in Construction doing everything from rehabbing houses to carpentry to tree removal. He even had his own Hauling company for a period.
Dad loved camping and RVing, taking us on long rides in the countryside occasionally stopping in on friends and relatives. Dads favorite camping spots were Old Mill Stream and Roamers Retreat in Lancaster Pennsylvania. Dads simple pleasures were a good cup of coffee, tasty cakes, Dunkin Donuts and watching his favorite Westerns.
Dads wasn't strict but we learned how to do what we were told. Dad was a strong father figure, teaching and guiding us through childhood on into our adult lives. If there was a way to "design" a dad we wouldn't be able to improve on ours, the good Lord "broke the mold" when he created our dad. Thank you, Mom.
Dad leaves to mourn in his passing 4 children, candy, chuck, jan, and April, 11 grandchildren, 25 great grandchildren, and 10 great-great grandchildren and a host of nieces, nephews, cousins, and friends.
Dads easy going personality and fun-loving demeanor enriched the lives of everyone who knew and loved him.
Come celebrate 92 years of a life well lived Friday 11 to noon at Tabernacle Baptist Church, 150 East 2nd Street, Burlington where there will be a noon service. Interment Odd Fellows Cemetery, Burlington.
His Pall bearers will be:
Charles Schretzenmaire Jr (Son)
Edward Ragin Jr. (Grandson)
Charles Vann (Grandson)
Daniel Browder (Grandson)
Croix Wilson (Grandson)
Donovan Ragin (Great Grandson)
Kyle Ragin (Great Grandson)
Liam Ragin (Great-Great Grandson) to help